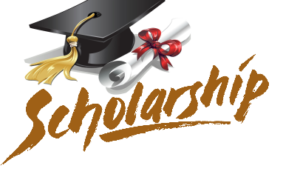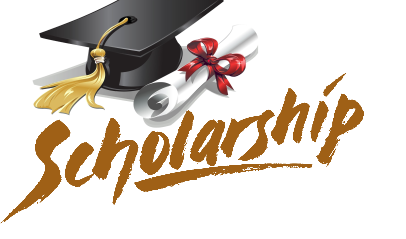 Congrats to Our 2023 Scholarship Winners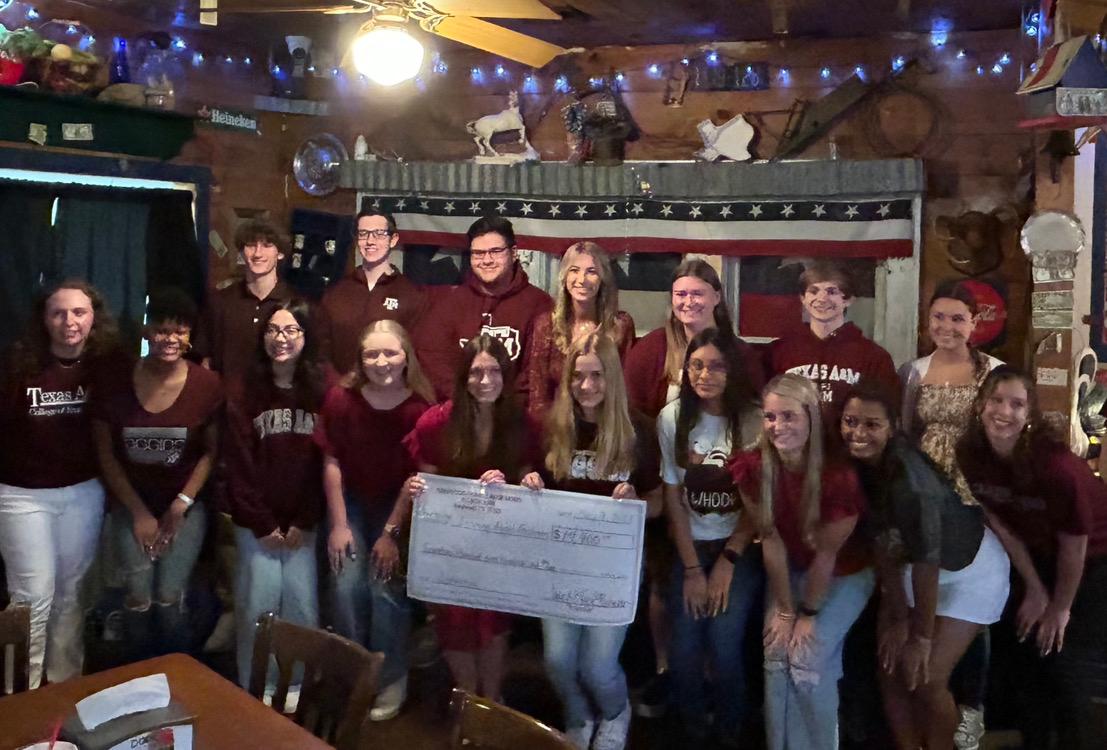 Scholarship applications open each spring (next Spring 2024)

For incoming freshman accepted to Texas A&M
(College Station/Galveston/McAllen/Qatar)

Must have TAMU acceptance letter

Must be a senior in high school and must RESIDE in one of the following zip codes: 77336, 77338, 77339, 77345, 77346, 77396, 77044, 77365, 77357, or 77372.

Must submit a complete application and all required documents by the specified date.

The application is also sent to all the area High School counselors, within our zip codes, to reach them before the Christmas break.

Interviews are be scheduled for applicants in late March or early April. 
___________________________________________________________________________
2022 Aggie Moms Scholarship Winners Announced!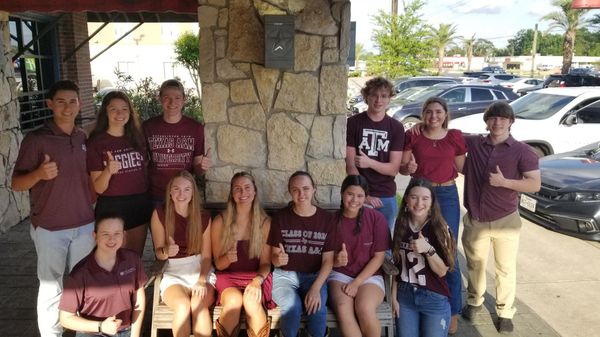 Congratulations to the 2022 Scholarship recipients!
Front Row L-R: Sydney Taylor (Splendora HS), Alyssa Koehler (KHS), Kelsie Grassman (KHS), Zoe Barnhart (Porter HS), Abby Lin (KHS), Piper Davis (KHS)
Back Row L-R: Luke Whitley (KHS), Emily Coronado (KHS), Corbin Adkins (homeschool), Blake Webb (Splendora HS), Mackenna Zeller (KHS), Kyle Welborn (KHS)
Not pictured: Ayodele Aina (HHS)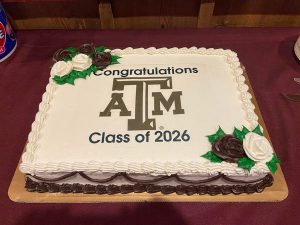 This is a scholarship application open to high school area seniors
living in our club ZIP codes and who have been accepted to
TAMU College Station or Galveston for summer or fall 2023.
[77336, 77338, 77339, 77345, 77346, 77396, 77044, 77365, 77357, or 77372]
The scholarship application will open in the November-December 2022 timeframe
and will be due in February 2023
Download 2022-KHAM-Scholarship-Application here for reference;
next year's application will be similar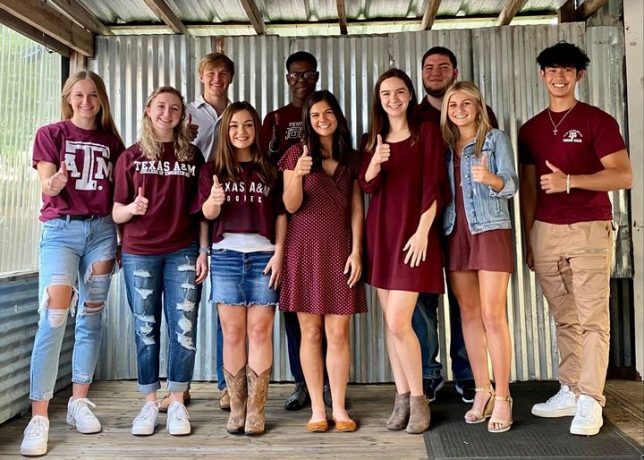 2021 Scholarship Recipients
Back row: Parker Ryan, Isaac Bulamu, Jackson Vincent, Enrico Morales
Front row: Hallie Ryan, Kierstyn Hudson, Jordan Fox, Caroline Doiron, Jane Moore & Ashton Schulz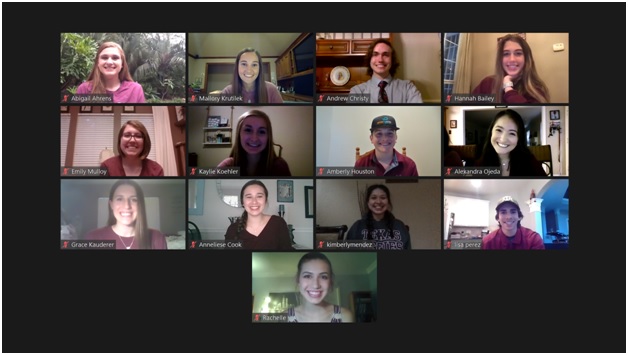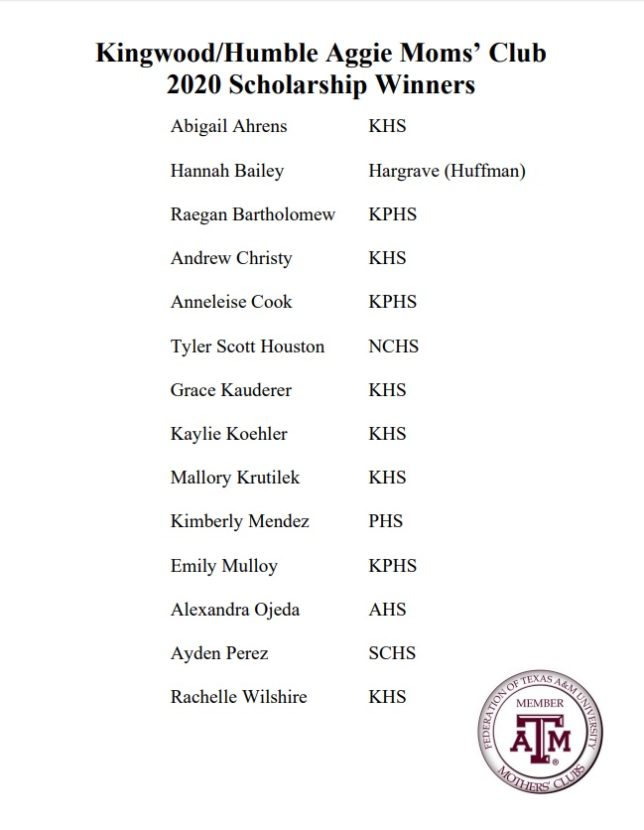 KH Aggie Moms is one of more than 100 Texas A&M University Mothers' Clubs nationwide. We are organized exclusively for charitable and educational purposes. Every year the Kingwood/Humble Aggie Moms' Club raises funds to provide scholarships to deserving local students on their way to Texas A&M University in College Station or Galveston
Meet Our Aggie Amazing 2019 Senior Scholarship Winners

Scholarship Recipients
Front Row L-R: Marie "Tess" Credeur KPHS, Rachel Halliday KPHS, Brittney McGowan PHS, Hailey Roliard AHS, Allison Self KHS
Back Row L-R:Haley Colburn AHS, Emmeline Efferson KHS, Sydney Kolar KPHS, Emily Pogue KHS, Boyi Shi KHS, Jaclyn "Jackie" Taylor KHS, Kieran Tillis KHS, Katie Wallace KHS, Alexandra Rillera SCHS
Not Pictured: Sarabeth Hanz IWA, Jordan Mueller NCHS, Michael Vickers KPHS
Last year, we awarded over $10,000 in scholarships to
EIGHT different area high schools.