Meet our 2018 Scholarship Winners
from the Loudest & Proudest
Fightin' Texas Aggie Class of 2022!
On May 7, Aggie Moms awarded over $10,000 in scholarships to
EIGHT different area high schools.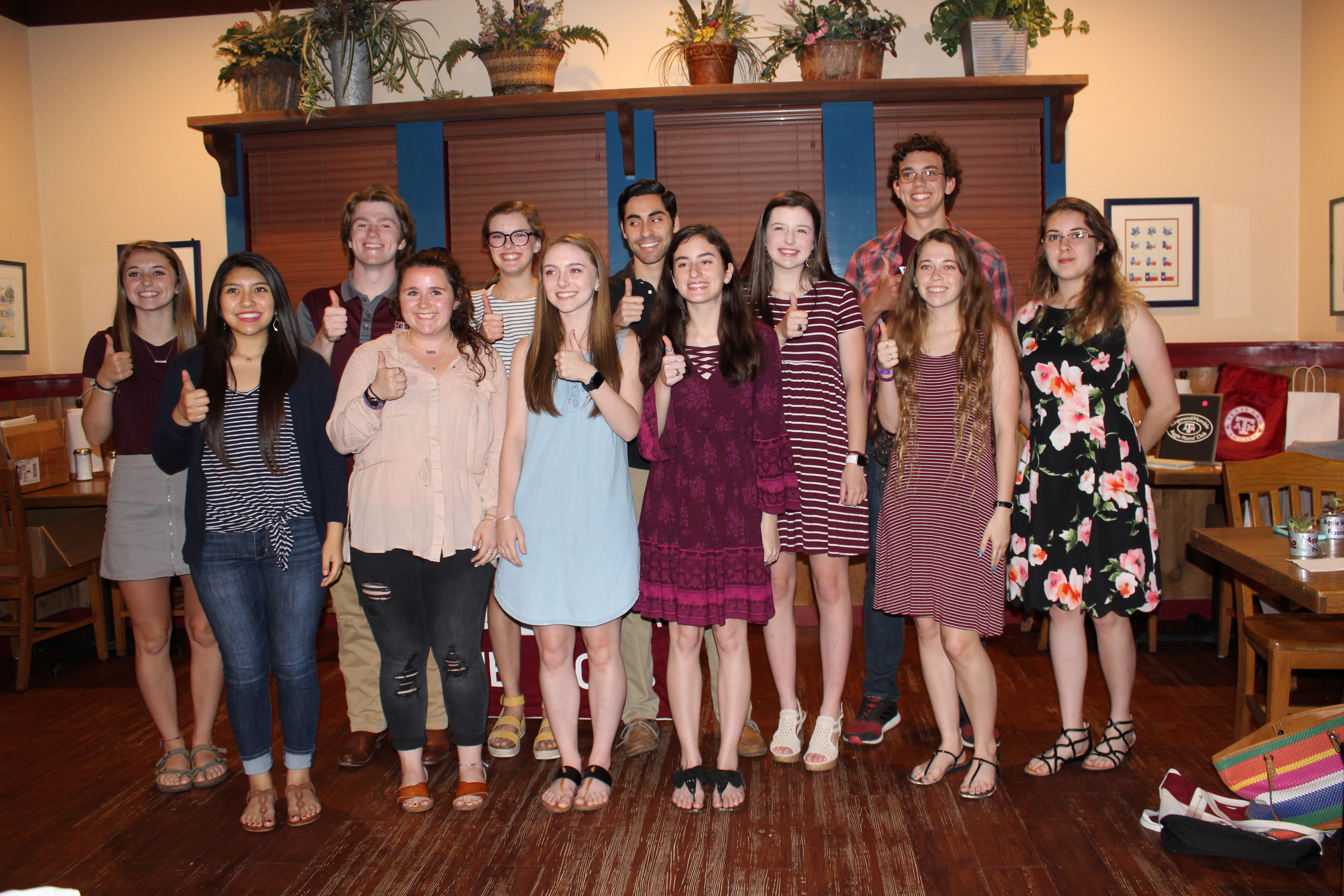 The winners left to right are:
Krista Stoner (KHS), Alexis Silva (NCHS), Will O'Brien (KHS), Ashton Syptak (KHS), Francine Meij (KHS), Lauren Lee (KHS), Eric Morejon (KHS), Madison Saenz (SCHS), Libby Diamond (IWA), Wilkes Varela (KPHS), Shelby Streater (AHS), Ariana Harding (KPHS).
Not pictured: Zachary Barnhart (PHS) and Zaria Rogan (HHS).
KH Aggie Moms is one of more than 100 Texas A&M University Mothers' Clubs nationwide. We are organized exclusively for charitable and educational purposes. Every year the Kingwood/Humble Aggie Moms' Club raises funds to provide scholarships to deserving local students on their way to Texas A&M University in College Station or Galveston.  
Thanks to Everyone Who Submitted an Application this year.
If you have a junior this year, don't forget to apply for this
scholarship in 2019! Spread the word!

Each year, our KHAggieMoms scholarship is available to area high school seniors who have been accepted to TAMU College Station or Galveston for the summer or fall semester. See form for qualifying ZIP codes.
Download last year's application just as an example
2017 Scholarship Winners!
KHAM is pleased to announce the winners of our 2017 scholarships. The club selected 10 high school seniors from the local area to receive scholarships for Texas A&M University. The winning students represent a cross section of local high schools from Humble ISD, Porter ISD and New Caney ISD.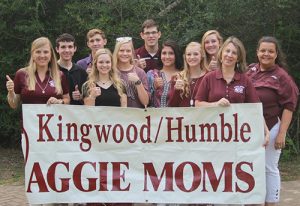 From left to right: Leaneta Eilers – Kingwood Humble Area Aggie Moms' Club Co-President, Paul Biancardi – Kingwood High School , Robert Credeur- Kingwood Park High School, Kylee Turner – Summer Creek High School, Ashley Potter – New Caney High School, Logan Brabson – Atascocita High School, Artemis Benjamin – Porter High School, Remi Eilers – Atascocita High School, Cassidy Bryce – Kingwood High School, Leslie Flickinger – Scholarship VP Co-Chair, Patty Burr – Scholarship VP Co-Chair. Not pictured: Laura Yepes – Porter High School, Daniella Matuk – Porter High School and Donna Hunter Kingwood Humble Area Aggie Moms Club Co-President.
2017 Student Organization Awards
KH Aggie Moms awarded a total of $2,600 to these great Aggie student organizations. Annually, our members nominate student organizations, and we award as much as we can 'cause that is what we do!
IEEE (Institute of Electrical & Electronic Engineers)
Freshman Leaders in Education & Human Development (FLED)
Christian Engineering Leaders
Society of Women Engineers
Student Geoscience Council
Women in Economics
Pre-Vet Society
National Association of Environmental Professionals
Aggie Leaders of Tomorrow (MSC A LOT Endowment)
Fish Camp
Freshman Leaders in Progress
Progressively Reaching Excellence in Professionalism (PREP)
Aggies Selflessly Serving in Shaping Tomorrow (ASSIST)
American Childhood Cancer Organization Tx A&M University
Kappa Alpha Theta
Sigma Alpha Sorority (National Agricultural Sorority)
Sigma Chi Fraternity
Sigma Phi Lambda
Texas A&M University Signing Cadets
Beta Upsilon Chi
Freshmen Leaders in Christ
Project Sunshine
The Wells Project
Maggies
Men's Lacrosse Team of Texas A & M University
St. Mary's Catholic Church