Welcome to our AGGIE MOM BOUTIQUE.  In addition to our local Howdy T-shirts and a huge selection of everything Aggie, we offer a wide range of unique handcrafted items.
~~~~~~~~NEW ITEM~~~~~~~
~~~~~~~~LASER GRAPHICS~~~~~~~
We are also pleased to be the exclusive provider for Kingwood Laser Graphics products, including engraved wooden Corps of Cadets Boxes, personalized Ring Boxes, Traditions Frames, wine stoppers and more.  We also offer six beautifully crafted glass display ornaments.
These products are available at our monthly meetings, at Parent's Weekend Boutique, and by special order.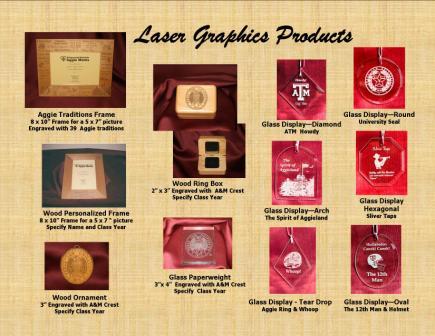 We also have Wooden Valet Boxes available. The dimensions of the boxes are 
4.5″ x 3.75″ x 1.5″ and are available for $45.00 each plus $7.00 for shipping.
Wooden Valet Box with University Crest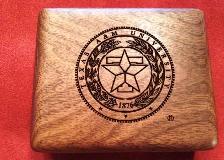 Wooden Box with Corps of Cadets Logo
To Download a Laser Graphics Brochure
(Includes Order Form & Pictures of Products)