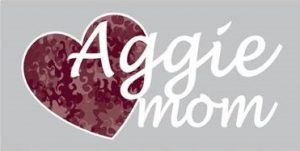 We invite you to join the Kingwood / Humble Aggie Moms Club.
It is an excellent way to become familiar with Texas A&M, to support hometown Aggies, and to form lasting friendships.
Join Our Club For 2019-2020. We Want You As Our Newest Member
(Aggie grandmas welcome too!)

Ways to Join:
Join at the next meeting (September 10 or October 8)
OR
Scan your form, email to khamgoodybags@gmail.com, and Pay via PayPal
OR
Mail us your form & check to KHAM, PO Box 5098, Kingwood, TX 77325
Download 2019-2020 Membership & Goody Bag Forms


TOP 10 REASONS TO BECOME A KINGWOOD/HUMBLE AGGIE MOM

1. To form friendships and socialize with other Aggie Moms.
2. To stay connected to your child & learn the ins and outs of A&M activities.
3. To receive information regarding Aggie Mom Club activities,  A&M activities (such as football games and hotel accommodations), and to hear guest speakers from A&M.
4. To raise funds that go directly to support local Aggies.
5. To have a chance learn the traditions of Texas A&M University.

6. To become as active an Aggie Mom as you choose. There is no pressure.
7. To learn the things about college life that your Aggie doesn't share with you.
8. To have a monthly opportunity to brag about your Aggie.
9. To network with other Aggie Moms who are also experiencing "the empty nest syndrome."
10. TO HAVE LOTS OF FUN!!!