Congrats to all our May Aggie Grads! Whoop!
We have these great yard signs for sale too, designed locally by K&S Sportswear!
Details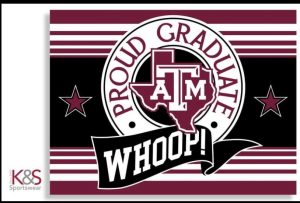 AND congrats to all our incoming Class of 2026 Freshmen!
Please help us spread the word about our club to Aggie moms, particularly new freshman moms and transfer moms.
We will start the 2022-23 membership drive this summer at our
July Howdy Party.
We have a lot of fun raising $$$ for scholarships.