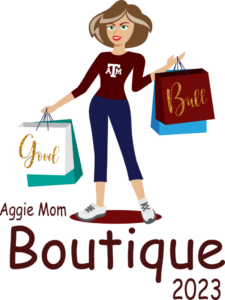 TAMU Parents Weekend. Aggie Moms Boutique at the MSC. Anything and everything Aggie! Tons of maroon merch! ALL clubs are there, including Kingwood/Humble!!
Admission is FREE. Ballrooms and hallways are full of Aggie-themed items for sale. Lots of raffles. All proceeds are for Aggie Scholarships. Don't miss out.
Come see us! It's so awesome. You won't believe it!
Friday, April 14th 10 AM – 4:30 PM
Saturday, April 15th 10 AM – 3 PM
2nd Floor Bethancourt Ballroom – MSC