Our September 2014 meeting was very well attended and featured a talk by Lt. Allan Baron, Lieutenant with the Texas A&M Police Department. He is pictured here with Club President, Lisa Lawrence and 2nd VP-Programs, Carolyn Suydam.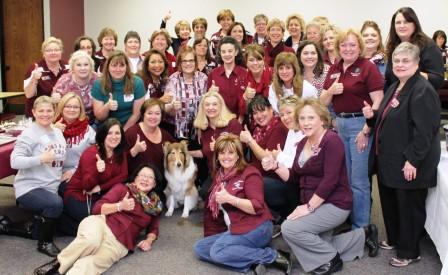 The Kingwood/Humble Aggie Moms hosted a District 4 meeting in January for the Federation of Aggie Moms.   Members from Harris, Montgomery, and Brazos counties attended and had a good time taking pictures with Reveille!!!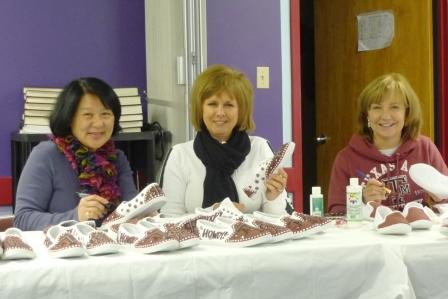 Boutique Chairs (l-r) Lisa Lawrence, Gayle Keller, and Patty Amoruso are shown here at one their many crafting workshops.  Painted shoes were a good-selling item at Boutique throughout the year and at Parents Weekend.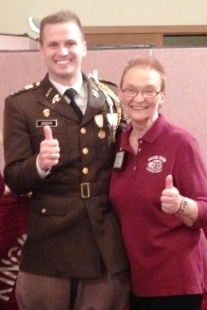 Our February speaker was Reid Ryan, President of the Student Body.  He is shown here with Programs Chair Carolyn Suydam.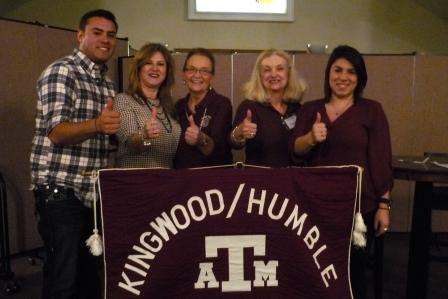 Our April meeting program included Parent of the Year for 2013-2014, Mary Rodriguez, and two of her four children, both Aggies.   We heard their inspiring story of parents who made their children's dreams come true!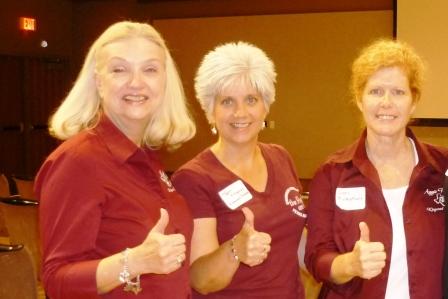 _
Members (l-r) Mary Widmier, Terri Fitzgerald, and Lori Pinkston attended the Federation August Workshop in College Station.  
We want your photos!   Send them to our email address with a caption identifying the event and the persons in the picture and we will share them with other Aggie Moms  on our website.